You have already been learning Mandarin for a while, but don't know where you are on this journey of adventure. Do you have 30 minutes? Come and take an online test!
Here we use the HSK to define your level. HSK is the abbreviation of "Hànyǔ Shuǐpíng Kǎoshì". Hànyǔ (汉语) means Chinese language. Shuǐpíng (水平) means level. Kǎoshì (考试) means test, exam. So, HSK is translated as Chinese Proficiency Test, or Chinese Standard Exam. It's China's only standardized test which rates non-native speakers' Standard Chinese language proficiency. The test is administered by Hanban, an agency of the Ministry of Education of the People's Republic of China. 
HSK has 6 levels and HSK 1 is the first level. Below shows details about each level :
HSK 1 elementary : 150 characters
can understand and use very simple phrases, meet basic needs for communication and possess the ability to further studies.
HSK 2 lower-intermediate : 300 characters
have an excellent grasp of basic Chinese and can communicate in simple and routine tasks requiring a simple and direct exchange of information.
HSK 3 intermediate : 600 characters
can communicate in Chinese at a basic level in their daily, academic and professional lives. They can manage most communication in Chinese when travelling in China.
HSK 4 upper-intermediate : 1,200 characters
can converse in Chinese on a wide range of topics and are able to communicate fluently with native Chinese speakers.
HSK 5 advanced : 2,500 characters
can read Chinese newspapers and magazines, enjoy Chinese films and plays, and give a full-length speech in Chinese.
HSK 6 native : 5,000 or above
can easily comprehend written and spoken information in Chinese and can effectively express themselves in Chinese, both orally and on paper.
As a foreign learner, if you could reach HSK level 4 which means that you master around 1200 vocabulary, you already reach an advanced level. You could converse in Chinese on a wide range of topics and are able to communicate fluently with native Chinese speakers. 
Course Curriculum
Available in days

days after you enroll

HSK Level 1
Available in days

days after you enroll

HSK Level 2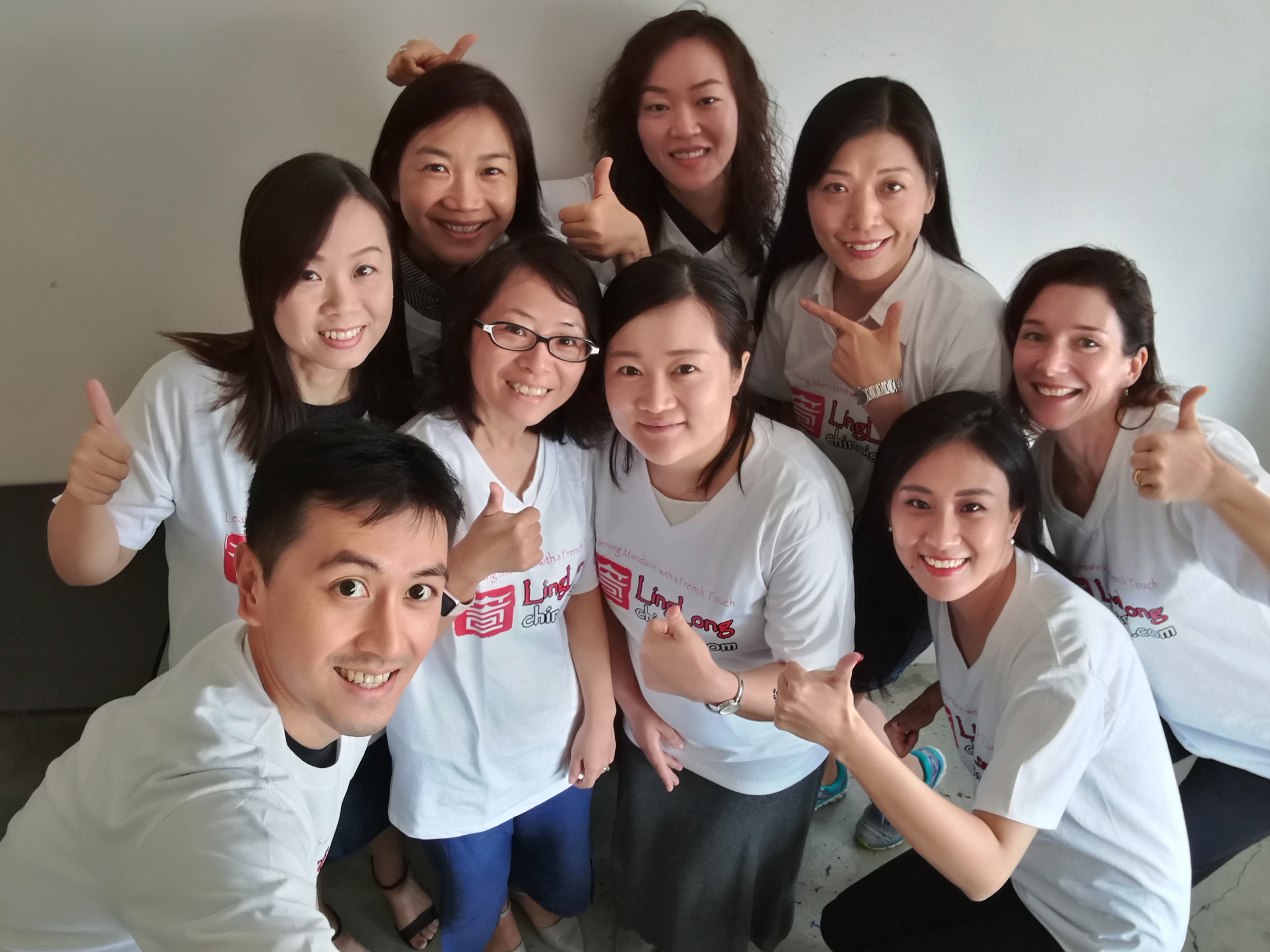 Your instructors
Changqing, a native Chinese speaker, owns an international Chinese Teaching Certificate. She could speak fluently French and English, and thus has a deep understanding of learning and teaching foreign languages. After studied in China (FuDan), France (UTC) and the United-States (UPENN), she obtained a Master degree in engineering. Changqing used to work for a French MNC for more than 15 years, she has strong inter-cultural communication skills. She has been living in Singapore with her family since 2012 and joined LingLongChinese at the beginning of 2016. Changqing currently works as a Chinese teacher at ESSEC Business School in Singapore. She also teaches Business Chinese for senior executives at Safran, Dassault Aviation, etc. Her passion for teaching and sharing is very much appreciated by students.
Ge is a native Chinese speaker. After graduated from the prestigious Peking University ("Beida") in 2006, she went to France to further her studies, and got her Master's degrees in law at Montesquieu University Bordeaux IV and in Comparative Politics at Sciences Po. Paris. In 2010, Ge moved with family to Singapore, the crossroads of East and West. She worked for a local law firm and for the Xinhua News Agency (China's official press agency)'s Singapore website before setting up LingLongChinese.
Aurélie is a French. Graduated from Paris VII University (Master Degree in Chinese language and civilization), she has an extensive knowledge about China. She studied in Beijing in 1997-1998. Then, after 7-year work experience in banking industry, she moved to China and worked in several Chinese cities (Guizhou, Shenzhen and Shanghai) in training and human resources industries from 2007 to 2012. After over 5 years in China, Aurélie moved to Singapore with her family in 2012.
Ge and Aurélie founded a LingLongChinese in Singapore in 2014. They are both trilingual Mandarin teachers (Chinese, English, French). After 3-year teaching experience, they create their online Mandarin schools: linglongchinese.com for Anglophones and linglongchinois.com for Francophones. They are dedicated to making their creative Mandarin courses accessible to more and more learners all over the world.