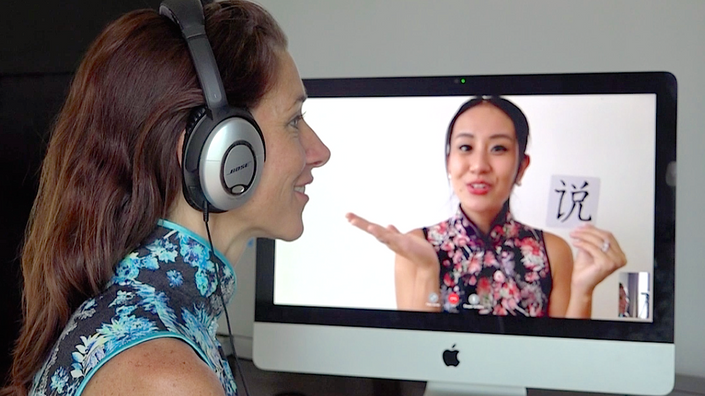 Customized One-to-One Live Online Lessons
Customized Live Chinese Lessons. We help you reach HSK levels and practice your oral Chinese with our native expert teachers.
We provide online individual & group classes for all the learner profiles with different learning objectives : HSK, YCT, Business Chinese, IB in Chinese, French BAC in Chinese. All our teachers are experienced and trained with Ling Long methodology, and highly appreciated by our 3000+ students.
All the students taking 10 online classes with us, will enjoy 20% discount on all our online Video Courses.

Who should take Ling Long online class?
- Anyone who wants to learn Chinese language and discover Chinese culture
- Anyone who already learned Chinese but has few occasions to practice oral Chinese
- Students aged from 7 who want to reach HSK levels or get HSK certificates

- Professionals who works with Chinese or wants to work in the Greater China region
- Businessmen who want to do business with Chinese or to develop Greater China's market
Why choose LingLongChinese?
- All of our teachers are well selected and trained by LingLongChinese and already have teaching experience in our offline Mandarin school.
- Our course is designed and structured based on HSK curriculum. Our objectif is to help you to reach HSK levels or to get HSK certificates, as well as to develop your interest in Chinese learning.
- Our teaching method emphasises logical and structural detailed learning instead of the intensive absorption of hundreds of characters
- Till now, 100% of our students who have passed the HSK test, have gotten their HSK certificate with high scores!
How to make your learning plan and schedule your classes?
1. Please write us to [email protected] to book a trial class with us. We will evaluate your Chinese level and work out a learning plan for you.
2. After the trial class, if you are satisfied with Ling Long teacher/methodology, we will send you an invoice of 10 classes (including the first trial class).
3. In case you cannot make your class appointment, please inform us at least 48 hours in advance and your class will be extended to the next time.